I have done lots of great things over the last week ...
I went to the Saltspring Island Fiber Festival on Saturday, it was good but I was disappointed at how small it was. However I did get to meet
Maureen
and her daughter and that was wonderful. It is always fun to meet people that I have met in cyberspace in person
We saw some llamas, angora bunnies and sheep
I was the lucky recipient of some excellent treats this week. Maureen made me the most amazing little photo album and bag. I am so happy with the album and it is already in my purse so I can show it off. I also got this very cute puppy tape measure from Kimberly in Hawaii, she is blogless but I sent it as a thank you for some chibi's I sent her awhile back
My mom's
Backtack
treats arrived today. I tried to get the dog to sit nicely for the photo but she had other ideas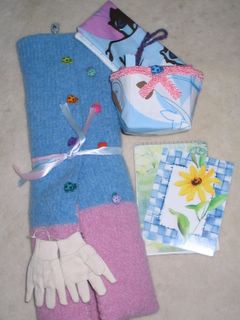 so I kicked her out of the picture.
Mrs.R
sent a great needle case, pad, sewing needle case and some other little bits and bobs
An inside shot of the needle cases. They are both very cool and the large one was knitted and then felted. It is beautiful, thanks so much from me and my mom.
I am here in Victoria till Friday and then I am off to join the real world of the unemployed in Ottawa. It has been a lovely vacation but sadly it is almost over. Until then I will keep myself busy with my nieces and nephew - they are adorable after all and I need to spoil them a little more before I leave.