Thursday morning -
Got a call to work at 6:30 am
I remembered...
- the garbage had to go out
- the recycling needed to go out
- to put the dogs out
- to have a shower
- to get breakfast
- my knitting
- to get out the door to get to work on time
but I forgot my book and my camera! Who goes to a book signing without a book, so I had her sign my hand instead and have shamelessly stolen pictures from other peoples blogs.
Steph laughed at me, I can't imagine why.
It was a great night and I'm so glad I went. I met lots of great new folks and laughed so hard I cried - it was good.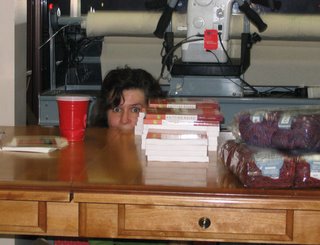 Louise provided great pre-harlot entertainment
There were bloggers from L to R
Lissa
,
Orris
, Me,
Nancy
,
Tara
( in the empty chair) and
Heather.
Behind us are
Kathy
, Mairi (she has a blog... somewhere) and
Leanne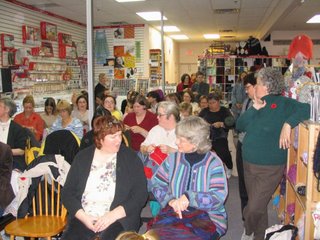 and lots of other knitters as well including Gillian on the left ( a new knitter who was not scared off by Louise and I) and
Suzanne Atkinson - just to mention one pattern of hers.

Steph taking her blurry knitters are here photo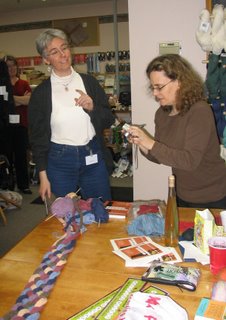 And Mairi, I just had to show the world at large what this fabulous knitter is up to this week. I love Mairi, she knits with us on Wednesdays and teaches classes at Y
arn Forward
, she is a fabulous fiber person ( a wonderful person, person as well) and the fact that Steph was also awestruck by her latest project made me feel good - I am am not alone in my Mairi awe! Mairi, let me say publicly that I am sorry if I embarrassed you by forcing the scarf out of your bag ( The scarf that she saw in Vogue knitting on
Saturday
and just went home and started to knit it without buying the magazine) but it really is amazing and the world needs to know.
P.S. C, Steph says thanks for making sure that we knew all knew she was coming here - for the rest of you my sister commented, phoned and emailed just to make sure I knew Steph was headed this way - she's good like that